Golf Classic
19TH ANNUAL AUTOZONE LIBERTY BOWL GOLF CLASSIC
MONDAY, JULY 22, 2013
SHOTGUN STARTS - 7:15AM AND 1:00PM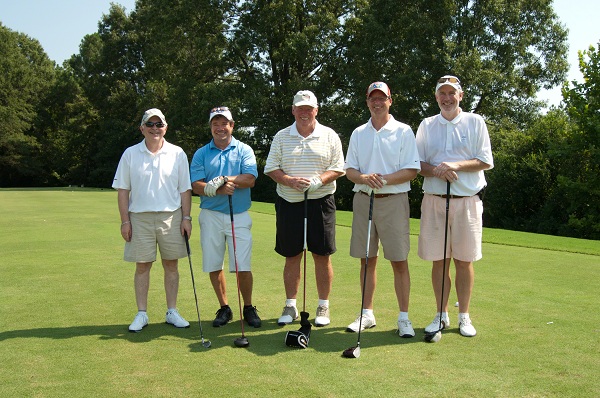 AutoZone executives Harry Goldsmith, Tom Newbern, Bill Giles and Bill Rhodes joined UCF Head Coach George O'Leary (center).
Tournament festivities will begin Sunday, July 21 with a Pairings Party at the Hilton Memphis Hotel which will include a special guest speaker. Cocktails and an auction will begin at 5:30 p.m., followed by dinner and entertainment at 6:30 p.m.
The 2013 AutoZone Liberty Bowl Golf Classic will be played on Monday, July 23 with shotgun starts at 7:15 a.m. and 1:00 p.m. All proceeds from the tournament go directly to St. Jude Children's Research Hospital. Each foursome will be joined by a fifth celebrity player. Celebrities will include head football coaches, athletic directors and media personalities from around the country.
To register to play in the Golf Classic, attend the Pairings Party or sponsor the tournament, please call the AutoZone Liberty Bowl at (901) 795-7700.