THE HISTORY OF THE AUTOZONE LIBERTY BOWL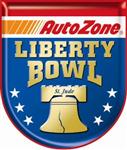 The AutoZone Liberty Bowl Classic was inaugurated on December 19, 1959 with a spectacular game between Penn State and Alabama. That game began a tradition of great stars and exciting football and was the first of 52 thrilling chapters in the history of the AutoZone Liberty Bowl Football Classic.
However, there is much more to the story. The AutoZone Liberty Bowl game was founded in 1959 by Ambrose F. "Bud" Dudley, a Philadelphia sports and business executive. Dudley slowly enlisted support for his plan to stage America's first and only major bowl north of the Mason-Dixon Line.
After five years in Philadelphia, Dudley moved the game indoors to Atlantic City Convention Center and in the process made history. The 1964 AutoZone Liberty Bowl was the first indoor college bowl game. Though the game drew interest from media outlets around the country, Dudley realized that a much larger, permanent home was vital to Bowl's long term sustainability. The following year he went looking for a new place to hold the event. His first and only stop was in Memphis.
The AutoZone Liberty Bowl has enjoyed many highlights throughout the years. But there were none more memorable than in 1982 when Alabama coaching legend Paul "Bear" Bryant ended his illustrious career in the 24th Annual AutoZone Liberty Bowl. Thousands of fans from across the country came to see the "Bear" coach his final game. More than 1,000 media members covered the historic event.
In 1993, another proud tradition that continues to this day was announced. The 1993 game brought about a winning combination as St. Jude Children's Research Hospital and the AutoZone Liberty Bowl joined to form a terrific partnership. This combination brought together an internationally recognized research facility and a winning college football tradition. St. Jude is dedicated to helping the children throughout the world in their fight against catastrophic diseases.
Beginning in 2004, Memphis-based AutoZone Inc., became the Bowl's title sponsor. In 2007, AutoZone extended its title sponsorship through the 2013 season.
Memorable Moments in AutoZone Liberty Bowl History
December 19, 1959 – The game marked the beginning of a great bowl tradition and also was the first of 24 consecutive bowl trips for Paul "Bear" Bryant. The game was played in Municipal Stadium in Philadelphia, PA.
December 15, 1961 – Heisman Trophy winner Ernie Davis led his Syracuse Orangemen to rally to a 15-14 win over the Miami Hurricanes. Davis was named the game's Outstanding Back but teammate Dick Easterly won the MVP award.
December 15, 1962 – Heisman Trophy winner Terry Baker raced 99 yards with 9:24 left in the first quarter for the game's only score. The run marked an AutoZone Liberty Bowl and Oregon State record. The mark still stands today.
December 19, 1964 – The inaugural game in Atlantic City, featuring Utah and West Virginia, marked the first time a major college bowl game was held indoors.
December 18, 1965 – Marked the first game held in Memphis, TN, and pitted Ole Miss against Auburn.
December 14, 1968 – Archie Manning led his Ole Miss Rebels to a 34-17 victory over Virginia Tech.
December 13, 1969 – Colorado running back Bobby Anderson rushed for an AutoZone Liberty Bowl record 254 yards.
December 18, 1972 – Georgia Tech's back-up quarterback Jim Stevens was named MVP after completing 12 of 15 passes for 157 yards in guiding Georgia Tech to a 31-30 victory over Iowa State.
December 17, 1973 – Lou Holtz and his N.C. State Wolfpack took a 10-10 tie in the 3rd quarter and pushed it to a 31-18 victory over Kansas.
December 20, 1976 – Terry Donahue faced off against Paul "Bear" Bryant. Bryant's 16th ranked Crimson Tide dominated Donahue's 7th ranked UCLA Bruins, 36-6.
December 19, 1977 – Nebraska head coach Tom Osborne called on back-up quarterback Randy Garcia, who rallied the Cornhuskers with two forth quarter touchdown passes to beat North Carolina 21-17.
December 22, 1979 – This game marked the only time a touchdown was not scored as Joe Paterno's Penn State Nittany Lions defeated Tulane 9-6.
December 29, 1982 – The 1982 contest marked an end to a remarkable career as Alabama head coach Paul "Bear" Bryant coached his final game. Alabama defeated Illinois 21-15 before a crowd of 54,123.
December 29, 1983 – Heisman Trophy winner Doug Flutie threw for 287 yards and three touchdowns, but Notre Dame pulled out a 19-18 victory thanks to a missed extra point. Flutie was named the game's MVP.
December 27, 1984 – Heisman Trophy winner Bo Jackson had two touchdown runs. Jackson's 39-yard-touchdown run late in the fourth quarter gave Auburn a 21-15 win over Arkansas.
December 29, 1991 – A record crowd of 61,497 watched as Air Force defeated Mississippi State 38-15.
December 31, 1998 – Tulane capped an undefeated season by defeating BYU 41-27.
December 29, 2000 - #23 Colorado St. defeated #22 Louisville 22-17. The Rams finished the year 11-1 and ranked #16.
December 31, 2001- For the second year in a row, the Bowl featured a match-up of two Top 25 teams as #23 Louisville downed #19 BYU 28-10.
December 31, 2004 – The first match-up of two Top 10 teams as No. 7 Louisville took on No. 10 Boise State. This was the highest scoring game in AutoZone Liberty Bowl history with Louisville defeating Boise State 44-40.
December 29, 2007 - In front of an all-time record crowd of 63,816 fans, Mississippi State defeats UCF 10-3.
January 2, 2009 - In celebration of its 50th Anniversary, the Bowl secured a January playing date for the first time in its history. Kentucky rallied from a 13-point halftime deficit to knock off East Carolina, 25-19.
January 2, 2010 - A sellout crowd of 62,742, the second largest of all-time, watched the first ever overtime game in AutoZone Liberty Bowl history as Arkansas defeated East Carolina 20-17.