E-Newsletter
SEPTEMBER 18, 2014
AutoZone Liberty Bowl's Queens Program
"Providing Memorable Experiences for Today's Leading Young Ladies"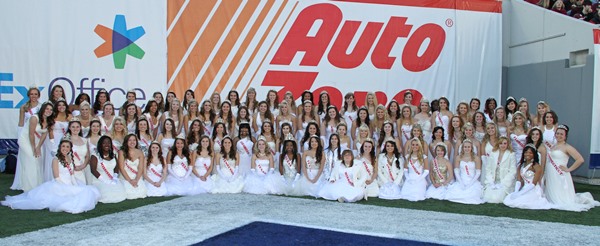 (If you are a past or present Homecoming Queen and are interested in participating in this program, please scroll down for the 2014 Queens brochure and registration form.)
Over the AutoZone Liberty Bowl's 56-year history, one of the Bowl's trademark traditions is its colorful and patriotic pageantry. A wonderful part of the game day experience is the group of AutoZone Liberty Bowl Queens who come to Memphis from all across America.
While in Memphis during Bowl Week, these outstanding young ladies enjoy a whirlwind of events and activities. Upon their arrival, Queens are welcomed to Memphis and the AutoZone Liberty Bowl at a reception held at their host hotel, the DoubleTree by Hilton Downtown. On the day before the game, the annual St. Jude Queens Luncheon is held at St. Jude Children's Research Hospital. From there the festivities move to historic Beale Street for the thrilling experience of the Bowl's action-packed Beale Street Parade.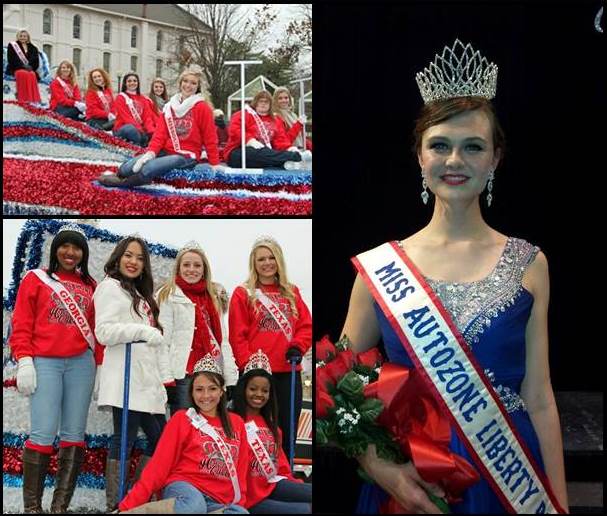 Kentucky's Cathryn Ellis, crowned Miss AutoZone Liberty Bowl earlier this year, will lead the AutoZone Liberty Bowl Queens through the non-stop schedule that continues through game day at the AutoZone Liberty Bowl. The Queens will take the field to participate in both the patriotic pre-game show and the high-energy halftime spectacular featuring a nationally-known entertainer.
If you or someone you know is a past or present Homecoming Queen interested in participating in this unique experience at the AutoZone Liberty Bowl, please click on the links below to download the 2014 AutoZone Liberty Bowl Queens Brochure and Registration Form:
GAME WE'RE FOLLOWING THIS WEEK:
Thursday, September 18
| | |
| --- | --- |
| Auburn at Kansas State | 6:30 p.m. CT |
Saturday, September 13
Troy at Georgia

11:00 a.m. CT

Central Michigan at Kansas

2:30 p.m.

CT

Florida at Alabama




2:30 p.m.

CT

Texas A&M at SMU

2:30 p.m. CT

Indiana at Missouri

3:00 p.m. CT

Mississippi State at LSU

6:00 p.m. CT

Northern Illinois at Arkansas

6:00 p.m. CT

Oklahoma at West Virginia




6:30 p.m. CT

South Carolina at Vanderbilt

6:30 p.m. CT

Texas Tech at Oklahoma State

6:30 p.m. CT
EARLY BOWL PROJECTIONS
Check out these early bowl projections for SEC vs. Big 12 match-ups you might see in this year's AutoZone Liberty Bowl:
| | |
| --- | --- |
| Florida vs. Oklahoma State | (Mark Schlabach, ESPN.com) |
| Ole Miss vs. Oklahoma State | (Jerry Palm, CBSSports.com) |
| Missouri vs. Texas | (Phil Steele) |
| Florida vs. Kansas State | (CollegeFootballNews.com) |
| Ole Miss vs. West Virginia | (Jason Kirk, SBNation) |
LINKS:
SEC: Week 4 Notes
Big 12: Week 4 Notes
FOLLOW THE BOWL:
Twitter: @AZOLibertyBowl
Facebook: AZOLibertyBowl
Instagram: autozonelibertybowl
Google+: AutoZoneLibertyBowl
YouTube: AZLBTV
LinkedIn: AutoZone Liberty Bowl
SPECIAL THANKS:
We would like to thank these companies for their support of the AutoZone Liberty Bowl: Campbell Clinic, Thomas & Betts, Gold Strike Casino, Embassy Suites Memphis, DoubleTree Hotel Downtown and Lynn Doyle Flowers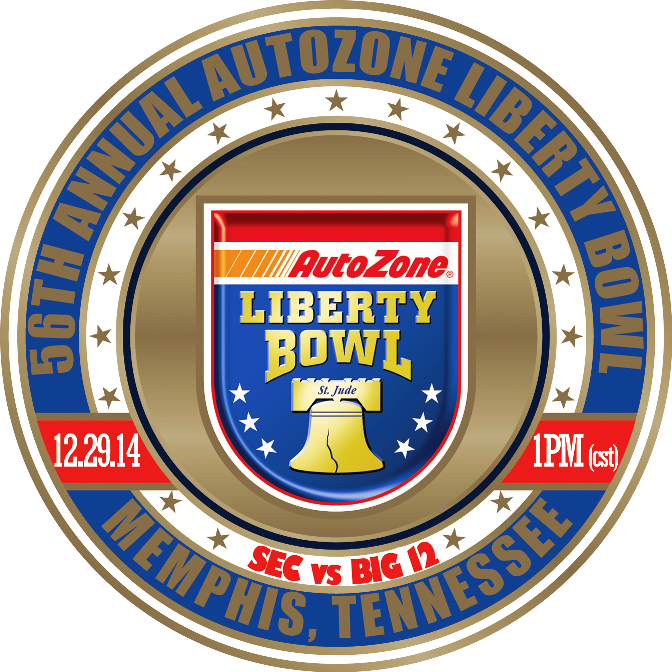 AutoZone Liberty Bowl Football Classic - 959 Ridgeway Loop Road, Suite 101, Memphis, TN 38120 - 901-795-7700 - www.AutoZoneLibertyBowl.org