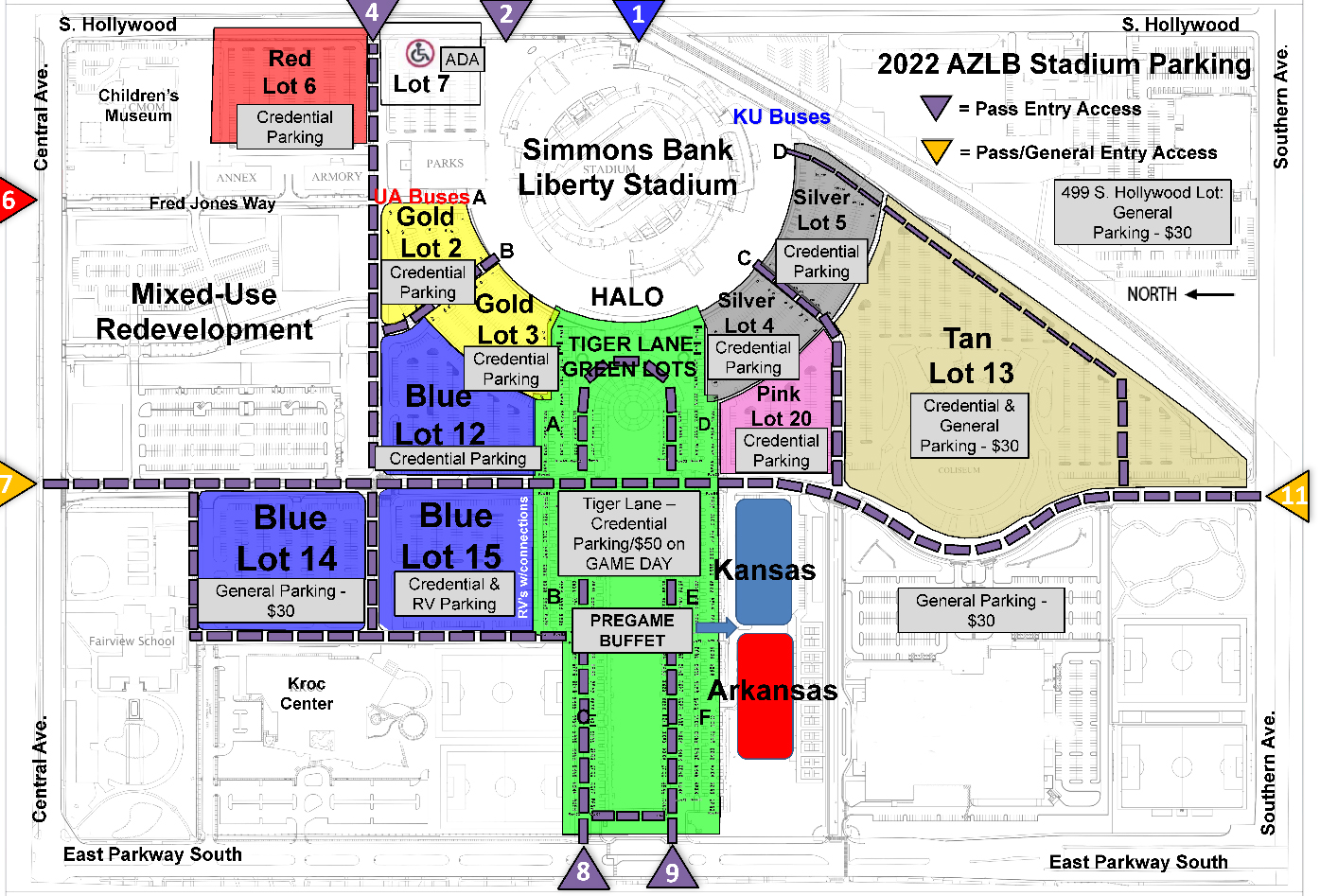 ADVANCED PARKING IS SOLD OUT.
PARKING SHUTTLE INFO
CAN BE FOUND HERE
Game Day General Parking: Game day general parking on LBMS property can be accessed via Access 11 (Southern Ave. and Early Maxwell), and Access 10 (off East Parkway South). General parking is first come first served, CASH OR CREDIT. Parking lots open up for General Parking at 9:00am (CST) on game day.
PARKING RATES on GAME DAY (CASH ONLY):
Automobiles $30 flat rate per occupied space (other than Tiger Lane)
Bus/RV parking is $80 (up to 4 spaces)
Drop Off/Pick Up
Drop off and pick up will be allowed at Access 2 off South Hollywood on game day. Due to preparations for game day egress, South Hollywood will only allow outbound (Northbound) traffic from halftime, until the clearing of egress. Guests can be picked up after all outbound traffic is off property, post game.
Taxi/Uber/Lyft dropoffs are allowed at Tiger Lane and East Parkway, along the north bound curb insert. Drivers should follow directions from MPD officers.
PARKING ACCESS:
ADA Parking (Guests with Disabilities Lot Access) The main ADA parking lot is in Lot 7 and can be accessed via Access 4, off South Hollywood. NO Tailgating is allowed in these areas, and they are first come, first served. All guests parking in these areas much have a valid ADA placard or permanent tag that is visible at all times from the front windshield of the vehicle.
For secure off-site RV storage located just 5 miles from Liberty Bowl Stadium, contact our friends at MOVE IT SELF STORAGE at 901-310-3850 or visit: https://www.moveitstorage.com/storage/tennessee/storage-units-memphis/2700-Getwell-Rd-85