AutoZone Liberty Bowl names Hershel "Woody" Williams
Grand Marshal of the 2021 Beale Street Parade
Medal of Honor recipient to be honored and recognized at Bowl Game
Simmons Bank partners with Bowl to host and honor Gold Star Families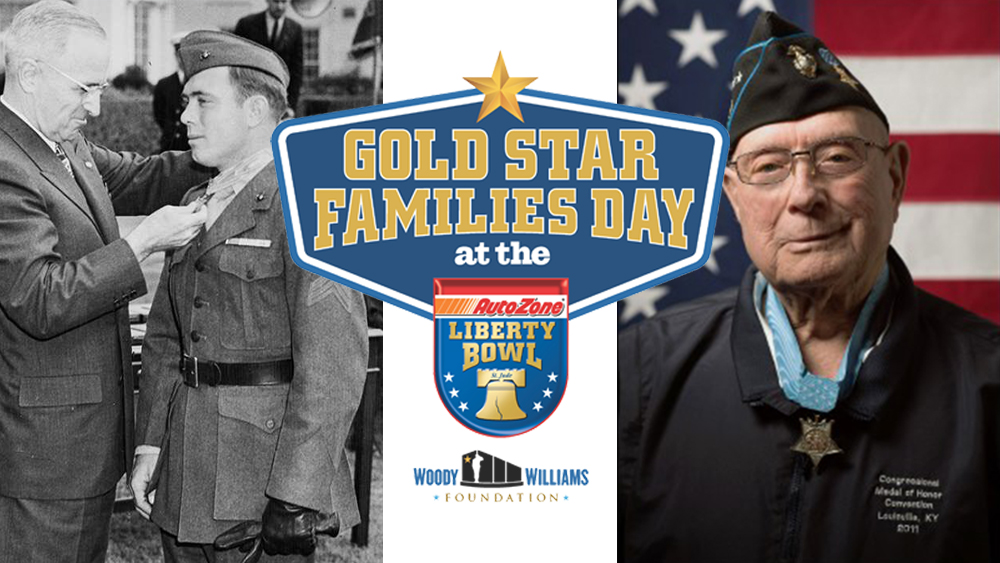 The AutoZone Liberty Bowl was founded by World War II, B24 navigator Bud Dudley on the principles of liberty, freedom and patriotism. This year's 63rd AutoZone Liberty Bowl will continue the Bowl's patriotic mission by paying tribute to Hershel "Woody" Williams and Gold Star Families from across the United States.

Williams, who recently celebrated his 98th birthday and has the distinction of being the last living recipient of the Congressional Medal of Honor from WWII, will serve as the Grand Marshal and lead the AutoZone Liberty Bowl's parade down Beale Street on December 27 at 3pm.
The following day, Williams and Gold Star Families from throughout the U.S. will be honored and recognized at the AutoZone Liberty Bowl game. Gold Star Families are those whose Loved Ones made the ultimate sacrifice while serving in the United States military defending our liberty and freedom.
Simmons Bank will provide a game ticket to each Gold Star Family member attending the game. Each Gold Star Family member will receive a special "Simmons Bank Gold Star Families" VIP lanyard and will be seated in the "Simmons Bank Gold Star Families" section.
Williams enlisted in the United States Marine Corps and served in the Battle of Iwo Jima with the 21st Marines, 3d Marine Division. During the battle, Williams displayed "valiant devotion to duty" and service above self as he "enabled his company to reach its objective". Williams' actions, commitment to his fellow service members, and heroism were recognized on October 5, 1945, when he received the Congressional Medal of Honor from President Truman at the White House.
"Woody Williams is a true American hero and personifies the very ideals the AutoZone Liberty Bowl. "We're looking forward to Woody firing up the bands and leading our celebration down one of America's most iconic venues, Beale Street."
"I appreciate the AutoZone Liberty Bowl honoring me in this manner. It's humbling to be associated with this incredible organization that symbolizes liberty and freedom," said Williams. "The AutoZone Liberty Bowl inviting all Gold Star Families to be their guests at the Bowl game is such a tremendous demonstration of what our country needs to do, honor those who have sacrificed more than anyone else to ensure our way of life as Americans! This is why this event means so much to me. This will be a tremendously memorable experience."
The 63rd AutoZone Liberty Bowl will be played December 28 at 5:45pm central time. The game will be feature teams from the SEC and Big 12. Tickets are available by calling (901) 795-7700 or visiting www.ticketmaster.com.