AutoZone Liberty Bowl Events to Feature
Andy Childs to Receive Outstanding Achievement Award
and Headline President's Gala
Jason D. Williams will Rock the Halftime Show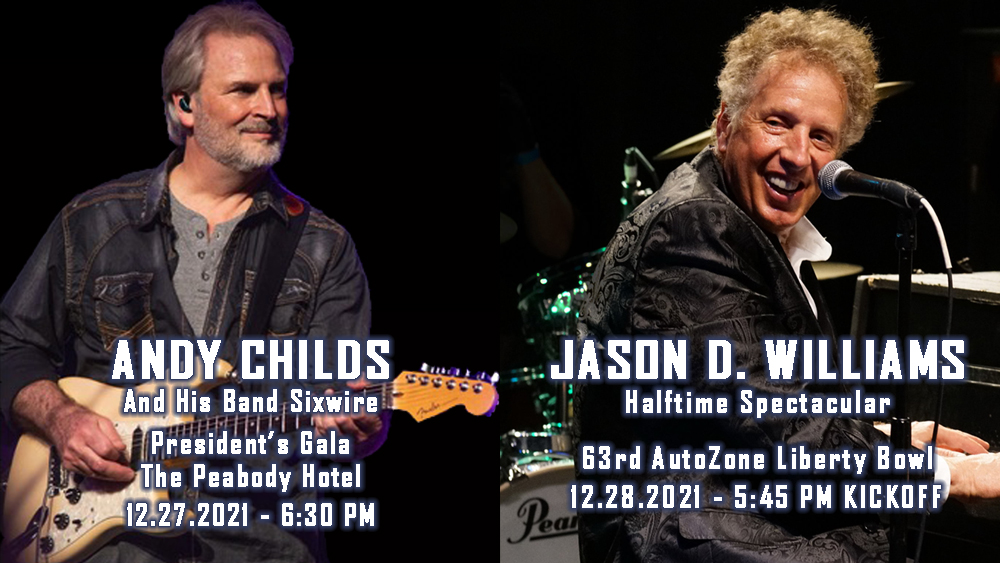 For tickets to the AutoZone Liberty Bowl President's Gala or the AutoZone Liberty Bowl Football Classic, call the AutoZone Liberty Bowl at (901) 795- 7700 or click here.
Entertainers Andy Childs and Jason D. Williams are as synonymous with Memphis as any in the history of Memphis music. Their individual styles and classic sounds have made them Memphis music icons. Both Childs and Williams will bring their high-energy shows to AutoZone Liberty Bowl events this year.
Andy Childs will receive the Bowl's Outstanding Achievement Award at the President's Gala and headline the entertainment with his band Sixwire on December 27 at The Peabody Hotel at 6:30pm.
Goodness gracious great balls of fire! There's going to be a whole lot of shakin' going on when Jason D. Williams brings his rockin' show to the 63rd AutoZone Liberty Bowl game as the grand finale of the halftime show. The AutoZone Liberty Bowl game will be played December 28 at 5:45pm.
Each year, the Outstanding Achievement Award is presented by the AutoZone Liberty Bowl and St. Jude Children's Research Hospital in recognition of excellence in the field of music and entertainment. This time-honored recognition dates back to the early years of St. Jude and its founder, entertainer Danny Thomas.
"I'm humbled and honored by this acknowledgment, and I mostly feel fortunate that I have been able to live the dream of a music career that started for me in my hometown of Memphis," said Childs. "Memphis is the most important community in the history of popular music, and I get a thrill every night when I am able to introduce myself as being born and raised there. Beyond any dream I have had, I am even more grateful that my work in entertainment has presented opportunities to help raise a great deal of funding for St. Jude Children's Research Hospital, and as long as I am on my feet and in good voice, I'll continue that work. Thank you Steve Ehrhart and the AutoZone Liberty Bowl for allowing me to be a part of one of Memphis' greatest events!"
"We're proud to honor Andy for his more than 20 years of performing at the President's Gala and his fabulous career," said Steve Ehrhart, Executive Director of the AutoZone Liberty Bowl. "This year Andy and Sixwire will be the headline act at the President's Gala and play until the last person leaves the dance floor".
"It's such a honor to have been asked to perform the halftime show for the AutoZone Liberty Bowl. As a Memphian myself I have always enjoyed the privilege of promoting our wonderful city and our unique style of rock and roll all over the world," said Williams. "Being a fan of the game of football is the icing on the cake for this performance, I imagine the only thing better than having seats on the 50-yard line will actually be being on the 50-yard line."
"Jason D. is a high-energy entertainer with his own great songs to go along with the rock n roll classics he puts his own special touch to such as "Great Balls of Fire" and "Whole Lotta of Shakin Goin' On'", added Ehrhart. "Jason D. will make this year's halftime finale a show we'll all remember for a long time."
About Andy Childs:
The Memphis native has recorded albums for Sony and RCA, while touring across the country and around the world with Faith Hill, Martina McBride, Clint Back, Trisha Yearwood and many other top country stars. In 2002, Childs joined forces with several other talented musicians to form the band Sixwire. Andy and the band have had great success, signed with Warner Brothers Records. Their first release debuted in the Top 30. With Andy as the lead singer, Sixwire has had broad and sustained success both as a touring group and on national television. Sixwire has been featured on the USA Network's "Nashville Star", CMT's "Can You Duet" and "Next Superstar", and most recently on the ABC dramatic series "Nashville". Throughout his career in live entertainment, Andy has specialized in corporate meetings and events such as the Daytona 500, Super Bowls LI and LIV and the NFL Draft. Andy and Sixwire have performed at multiple charity events for St. Jude Children's Research Hospital over the past ten years, raising nearly $20 million dollars. Andy has promoted tourism around the world through his association with Memphis Tourism and the Tennessee Department of Tourist Development. In addition, due to his long-time partnership with the AutoZone Liberty Bowl, Andy has been a wonderful ambassador for the Bowl.
About Jason D. Williams:
Jason began playing the piano at the age of three and he's been entertaining audiences ever since. After many youthful years of playing, without any formal training, Jason headed down the road of success at 18. From Memphis to New York and Boston, Jason has traveled the entire country and most of the world. Jason's talent has been admired by the greatest piano players in the music business. Elton John, Billy Joel and Jerry Lee have all been awestruck by his raw energy and incredible talent. Jason plays more than 200 dates a year for more than 100,000 enthusiastic listeners. In his spare time Jason enjoys nature and is an avid birder. He can often be found exploring his more than 100-acre farm located in Arkansas. Jason's talent is truly one of a kind. His style goes from Boogie Woogie Rock & Roll to the most difficult Classical Contralto. Whatever the age, Jason's ability to entertain is a crowd pleaser.