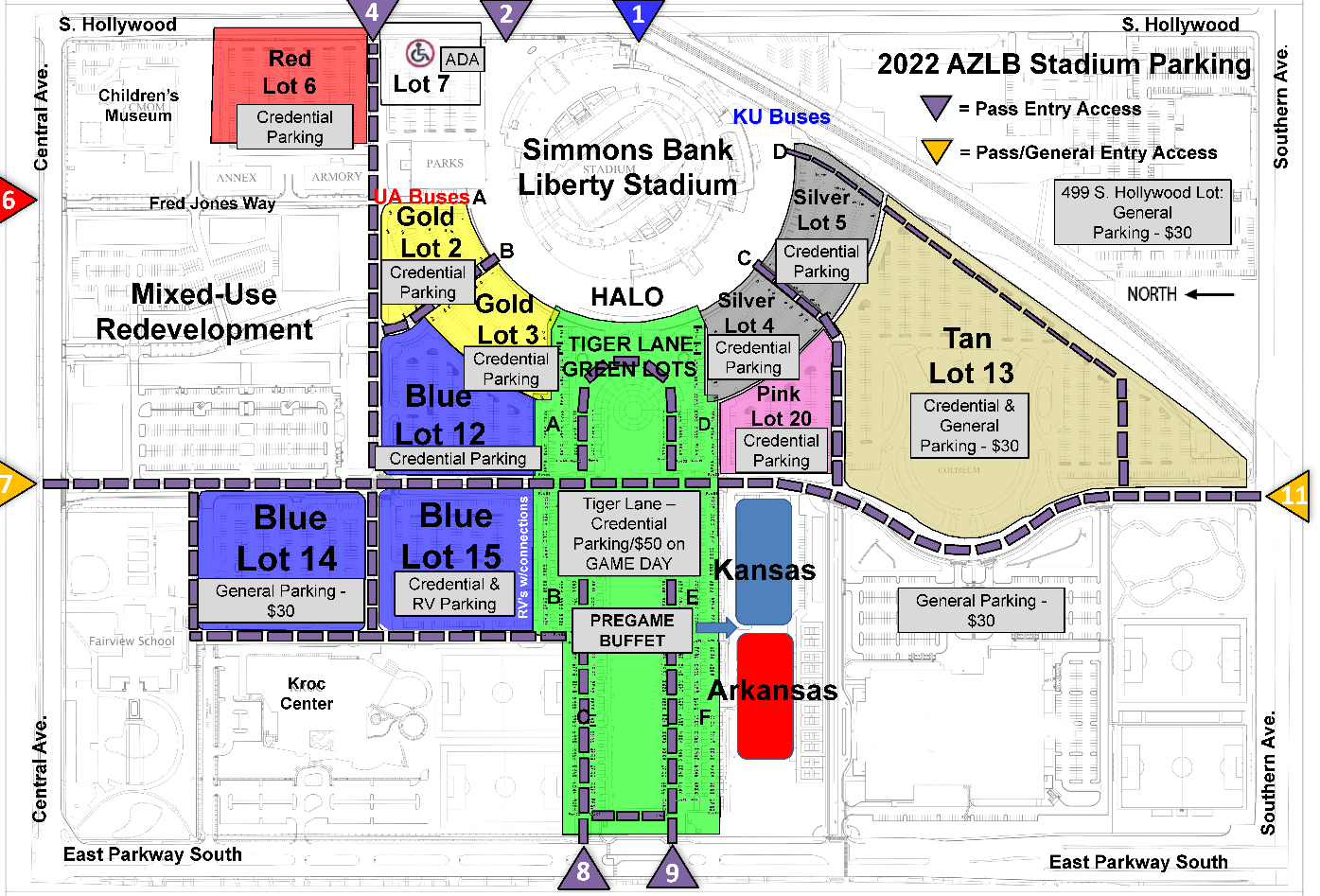 GAME DAY SHUTTLES
Make Parking Easy Take A Shuttle
To help relieve some of the parking and traffic challenges of this game, Blues City Tours and the University of Memphis will provide round trip shuttle service to Simmons Bank Liberty Stadium.
The City of Memphis is offering Park-N-Ride Shuttle Service to the Stadium from the University of Memphis campus. The service includes free parking and round-trip shuttle service to and from the stadium for $10 per person. Shuttles are cash or credit payment.
Fans interested in shuttle service can park in the University's Central Avenue parking lot (3750 Central Avenue, between the Holiday Inn parking lot and the Scheidt School of Music) or the Zach Curlin Garage (505 Zach Curlin) and access the shuttles, which will begin at 12:30 p.m. and run continuous routes until one hour after the game concludes.
Drop-off and Pick-up location at the Stadium will be located at the Coca-Plant Office at 499 S. Hollywood.
STADIUM PARKING LOTS
All Stadium parking lots open on Game Day at 9:00am

Please see map and check back of parking pass for Access Point Entry for Pass Lots

Parking Pass Holders are reminded to have their passes displayed on their dash board/hung from rear view mirror prior to arrival at the Stadium parking lots

ADA Lot is first come, first serve to patrons with ADA placard. Please show upon entry.

General Parking (CASH or CREDIT) will be available in the following lots:

Tiger Lane ($50) with dedicated tailgating space and power services: enter at Access 9 (East Parkway and Tiger Lane South)

Blue Lot 11 and Blue Lot 14 ($30/$100 for RVs): enter at Access 7 (Central Ave. and Early Maxwell)

Tan Lot ($30/$100 for RVs/Buses): enter at Access 11 (Southern Ave. and Early Maxwell)
OFF-SITE PARKING LOCATIONS
Coca-Cola Lot, entrance on S. Hollywood Street just north of Southern Avenue

o Opens at 10am, Tailgating NOT permitted

o $20 cash or credit, per space

o RVs and Buses are permitted, must pay per space used

Tobey Park, entrances on Central Avenue and S. Hollywood Street

o Opens at 10am, Tailgating permitted

o $20 cash or credit, per space

o RVs and Buses are NOT permitted

Avery Armory Lot, entrance located on Avery Avenue

o Opens at 10am, Tailgating permitted

o $20 cash or credit, per space

o RVs and Buses are NOT permitted

Christian Brothers University, lot entrance at Central Ave. and Early Maxwell.

o Opens at 11:00am, Tailgating permitted

o $20 cash-only, per space

o RVs and Buses are NOT permitted

Middle College School, lot entrances on Central between East Parkway and Early Maxwell

o Opens at 12:00pm, Tailgating NOT permitted

o $20 cash-only, per space

o RVs and Buses are NOT permitted

Shelby County School Board, lot entrance at 160 South Hollywood St

o Opens at 10:00am, Tailgating NOT permitted

o $20 cash-only, per space

o RVs and Buses are NOT permitted